What it means to be a B corp Company 
B Corp Companies (short for B Corporation) are those certified organizations that are committed to high defined standards such as transparency, accountability, and social and environmental performance.
B Corporations act to maximize their positive impact on their people, the communities in which they operate and the environment.
This can be seen as a possibility of doing business in an ethical way, something that cannot generally be taken for granted, quite the contrary! They are not non-profit organizations, but companies that contemplate, alongside profit, the well-being and sustainability of society and the planet. 
One of the main supporters of the B Corp movement is the US economist Robert James Shiller, who won the Nobel Prize in Economics in 2013. He stated: 'B Corporations serve a dual purpose and will have better economic outcomes than all other companies'.

Several Harvard University economists also argue that the B Corp model is the only one that can "create a prosperous future and has the power to transform the course of capitalism".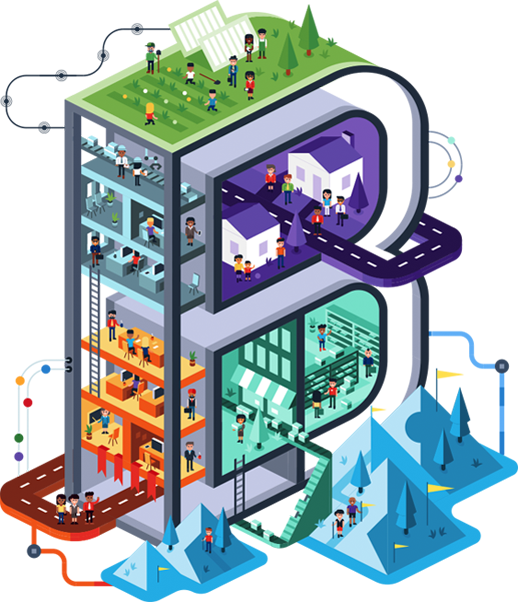 image taken from bcorporation.eu
Why join the B corp community 
The aim of the B Corp community, internationally, is to ensure that the environmental and social performance of organizations is measured in a timely and consistent manner, just like their financial results.
In Peoplerise we want to stimulate a "gentle revolution", a movement that sees the next step for humanity and calls for a paradigm shift towards the integration of science and spirituality and the integration of individuals into communities. It is a movement from the I to the WE.
This drives us every day, through our heads, hearts and hands, to contribute to the systematic mitigation of 3 deep disconnections that we see present in the world: the ecological disconnection, the socio-economic disconnection and the spiritual disconnection.
We saw the possibility in the B Corp movement to be a part of a community of companies globally committed to using their business as a positive force to mitigate these 3 deep disconnections. 
The power of a model that could guide us to embark on a sustainable and regenerative development path of continuous improvement for ourselves, society and the environment.
So Peoplerise, after becoming a Benefit Society, is now also certified as a B Corp™.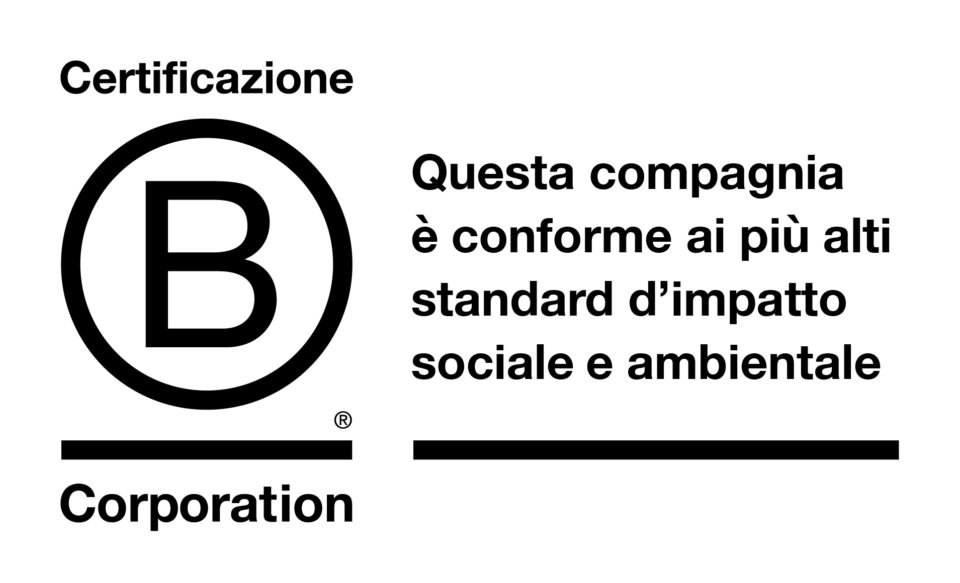 How we became B Corp
1. First, by measuring the value our organization brings to society. 
We started by filling out the B Impact Assessment (BIA), the tool for measuring one's positive impact.
The BIA, which is free and available online, looks at impact in 5 areas:
Governance: accountability and transparency
People: salaries and benefits, training, quality of work environment, ownership, etc.
Community: supply and logistics policies, job creation, community support actions, etc.
Environment: energy efficiency, waste reduction and reduction of environmental impact throughout the supply chain, etc.
Clients: positive impact of products and/or services on the customer.
To obtain and maintain the certification, issued by B Lab, a non-profit organization set up with the mission of spreading the new business model, companies must measure their performance and externalities. The score to be obtained is at least 80 points out of 200. After the first assessment, we scored 67; we had to roll up our sleeves to meet the high standards of B Corp.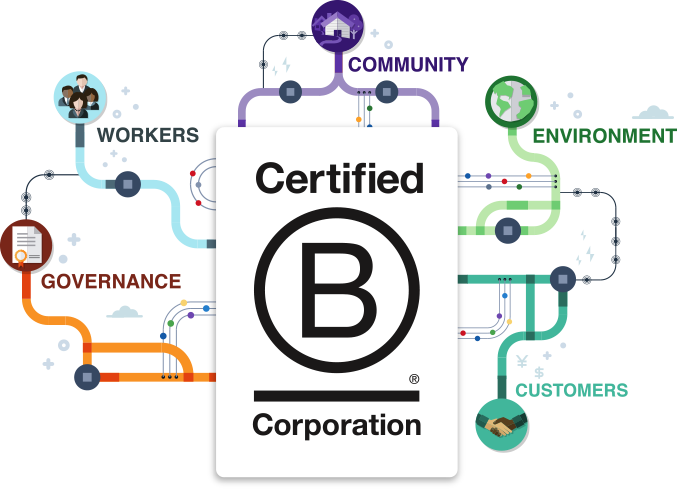 image taken from bcorporation.eu
2. Working on leverage points
From the results of the BIA, we came up with 8 leverage points. A leverage point is a strategic area for improvement where, with minimum effort, we could achieve maximum results. We then turned these leverage points into objectives to be achieved to improve our score.
Thereafter, we identified the people responsible for each of the different leverage points and involved the whole organization in an eco-systemic way. Each of us helped to develop actions to achieve the goals we had set for ourselves.
We realized that many of the actions were already being undertaken, but we had never officially made the process explicit. So, we did some crystallisation work for the benefit of those who in the future will join Peoplerise. It may seem like a quick thing to do, but it takes time, because it is essential to keep the entire business community on board.
Transparency of information, flexibility, smart working and widespread leadership are typical examples of actions that need to be done. Fostering a management culture that encourages collaboration and self-organization.
3. The second compilation of the BIA
As the processes were made explicit and written down, we included them in the Peoplerise playbook. As well as telling the purpose of our organization, what we do and how we do it, all the processes are now made explicit for the benefit of the whole community.
We then recompiled the BIA and, with great pride, we noticed how our score had gone up and that we were ready to apply for certification.
4. The verification phase
What happens when the 80 points are exceeded? The company undergoes a further verification, carried out by B Lab, through a validation process. Obviously, you are required to provide documentation to support the claims made in the questionnaire. The standards set by B Lab are quite stringent, rightly so and thankfully so!
Therefore, after several months of patient waiting (due to pandemic), we were contacted by the B Lab team to start the verification process of our score. Several interactions followed to check all the documentation. We were finally officialized as a B Corp company with a dual purpose: to make profit while generating benefit for society and the environment.
5. Signing the declaration of Interdependence 
We have officially committed to a series of actions and behaviors by signing the B Corp Declaration of Interdependence. We will later be required to make public an annual report on our impact and performance.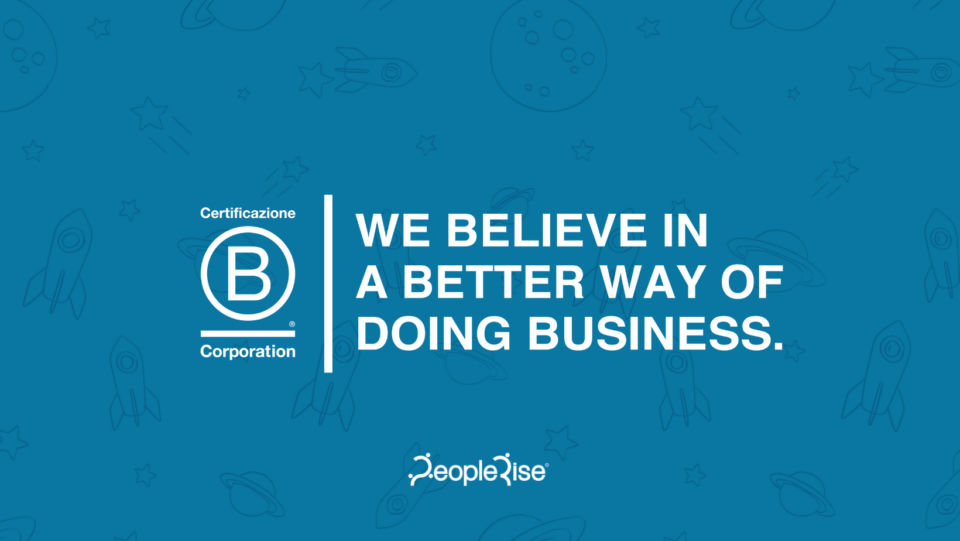 The benefits that certification brings
Collaborating in a company that is committed to bringing tangible benefits to the wider ecosystem, society and the environment is undoubtedly a powerful motivator. Being a B Corp allows you to not only differentiate yourself on the market, but also to attract talent, as well as to inspire possible investors. It means embodying values that are no longer just on paper but live in the day-to-day life of the organization.
Probably the greatest benefit for us at Peoplerise is to have a reference that guides our actions towards a sustainable and regenerative paradigm. Having formalized and systematized our practices so that, having them written down and shared, they will stand the test of time and not be just single, sporadic actions. On the contrary, having now shared written policies, we are able to turn our energies towards systemic channels in line with the nature of Peoplerise, without having to invent each time how to approach a given process.
Another benefit closely linked to sustainable development is that we have now started to systematically monitor our impacts, both positive and negative. For example, the level of CO2 emitted in our travels, donations, time spent on pro bono activities, etc. In this way we can set ourselves targets to continue to improve over time. Because being a B Corp is a journey that starts with certification, it doesn't end with it.
Since we became a benefit company and declared our path to becoming a B Corp, we have also noticed a greater interest in Peoplerise from a variety of stakeholders in the area and beyond.
We have received several requests for:
launching sustainable development initiatives together;

j

oint research projects, as we are considered one of the pioneers in Italy of this type of ethical and responsible movement;

participation in events to raise awareness of new practices and business models.
We see that times are maturing fast and we are excited about it!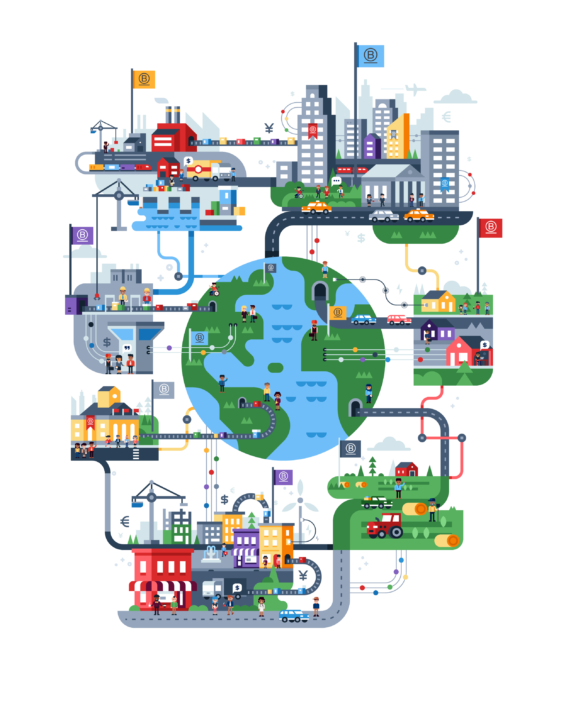 image taken from bcorporation.eu
A wish for this movement to grow more and more
Ultimately, the journey to become a B Corp has also pushed us to innovate creatively in a time of great uncertainty. Peoplerise is, as a living organism, constantly evolving, and the B Corp journey has pushed us to consider economic, social and environmental performance simultaneously in doing so.
For this reason, the great affinity with the B Corp values has also encouraged us to create Prosphera to support companies to undertake paths that can generate propserity for all stakeholders. 
We're very happy that the corporate world has started to get really serious about investing in corporate, social and environmental well-being. B Corp offers the possibility to do it in a certified and real way, so…no Green Washing, please!!!
We need real, concrete, documentable facts, not just fine words.
For those who work in human resources, it is important to be aware of the most advanced opportunities in order to contribute to improving both the climate and the corporate culture. Last but not least, also to have a positive impact on society.
We are very proud to be part of the B Corp movement, so what are you waiting for to join us?