Peoplerise hosted 10 American managers who are attending an overseas executive master in Organizational Development. The professors of the Green Bowling State University have recognized Peoplerise as one of the most innovative Italian consulting companies on this topic and they thought it was interesting to include Padua as a stop on their learning journey in Italy, to meet us and to understand how we work. And we are very happy that a company like ours is recognized by the American academic world as a trendsetter in this field.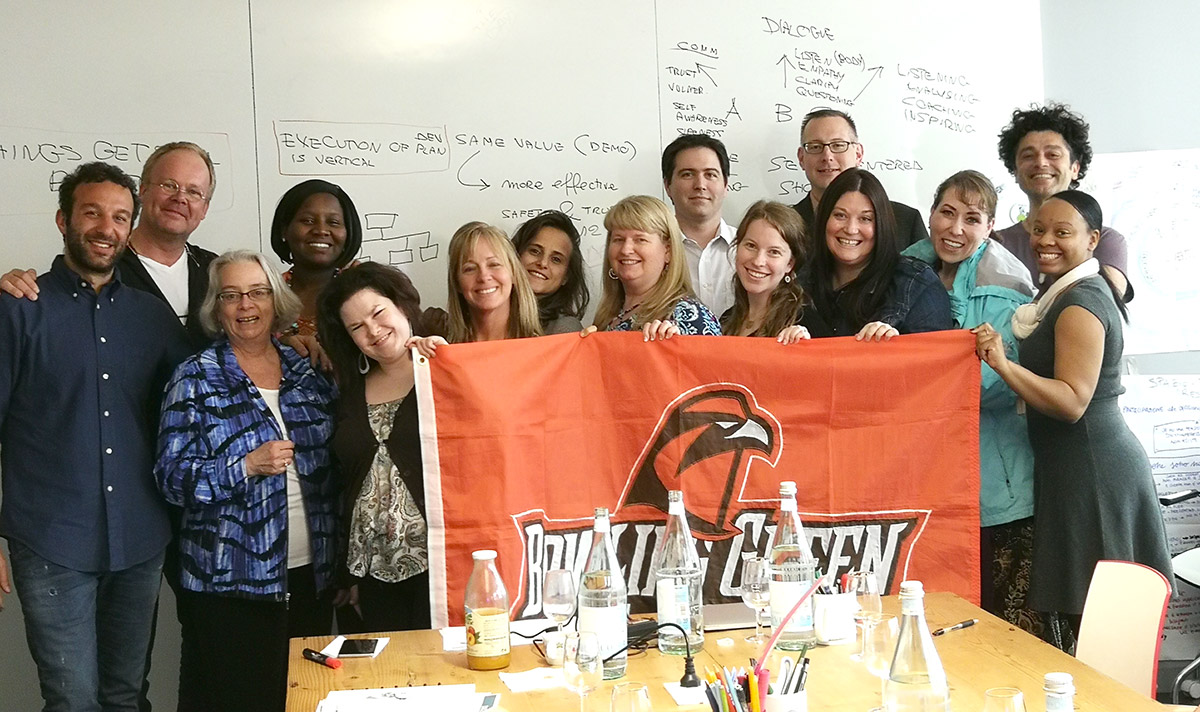 We shared 3 hours during which we explained, also in an experiential way, our approach and method and how we see organizational development. What interested the managers and teachers in particular was understanding how to put the more theoretical aspects into practice, carrying out the projects with simplicity and at the same time effectively, maintaining an overall vision and managing to diversify the focus.
For this reason, we involved them in a personal experience, inviting them to focus on the concept of development question, which for us is one of the main aspects when we enter a company. Then, we asked them to individually reflect on the biggest personal challenge they face in their professional environment. Thereafter they did some work on themselves and everyone was able to identify and clarify their own development question. Thanks to a mutual coaching activity, they came to define the concrete steps that each of them would have to take in the coming days, in order to explore if it was possible to arrive at some new answers.
We also focused on the presentation of one of our projects, illustrating how we worked with the top management EMEA (Europe, Middle East, Africa) of the Quality team of a large multinational company in the industrial sector. Starting with this team's collective development question of how to move from being a manager to being a leader, and individual development questions, we illustrated how it is really possible to articulate processes of exploration, reflection, and action that impact personal leadership development, how the team works together, and the results.
Lastly, we did a check out with a little meditation in order to share how this practice is now a standard feature in companies.
We are really satisfied and the collaboration with the master will probably not end here. However, this meeting led us once again to reflect on how important it is in the academic field to deepen the fact that management and organization are social sciences and not perfect sciences, that they reside in the domain of complexity and not only of order and that, from our point of view, they cannot be studied with exclusively mechanistic approaches. It should be recognized that these are topics that cannot follow only statistical correlations but must be analyzed in the field. America is quite attentive to this. It is not by chance that MIT in Boston, with Otto Scharmer, is carrying out very interesting revolutionary projects.
It's important to have moments of contamination like this to help evolve the landscape. In this meeting with Green Bowling State University it happened. And the dialogue that was created between Pieter Spinder, founder of Knowmads, the Dutch alternative business school that we support as Peoplerise, which is not part of the regular educational systems, and the professors of this academic university, which found very fertile ground for creating points of contact, was also very interesting. It demonstrates how complementary systems put in a dialogic context can generate great benefits for each other.