Peoplerise hosted 10 American managers who are attending an overseas executive masters course in Organisational Development. The teachers at Green Bowling State University identified Peoplerise as one of the most innovative Italian consultancies in the field and thought it worthwhile to include Padua as one of the stops on their learning journey in Italy, in order to meet us and find out how we work. This is great news for us, and we're absolutely delighted that a firm like ours should be recognised by the American academic community as a trend-setter in our field.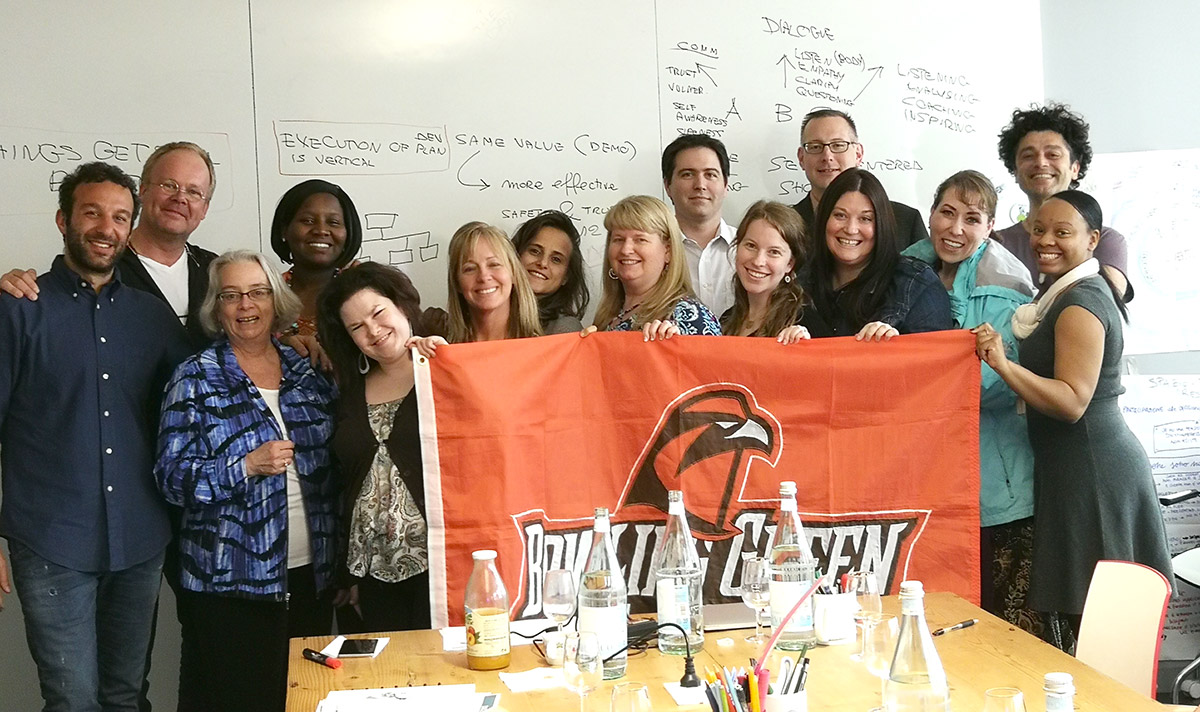 We spent three hours together, during which we illustrated – partly through hands-on experience – our approach and methodology and our perspective on organisational development. The most interesting thing for managers, and particularly for teachers, is understanding how to put the more theoretical aspects into practice: executing projects in simple yet effective ways, keeping a view of the whole while managing to focus on different components.
To do this, we involved our visitors in a personal experience, inviting them to focus on the concept of the developmental question, which for us is one of the main issues when we go into a firm. We then asked them to reflect individually on the greatest personal challenge they face in their professional environment. So they worked on themselves, and each one was able to identify and clarify their own developmental question. Thanks to a reciprocal coaching activity, they succeeded in defining the concrete steps that each person needs to take in the coming days, to find out whether the process has made it possible to obtain any new answers.
We also spent some time introducing one of our projects, demonstrating how we have worked with the senior management for EMEA (Europe, Middle East & Africa) of the Quality team of a large industrial multinational. Starting with this team's collective development question, i.e. how to move from management to leadership, and with the individual development needs of the team members, we demonstrated how it is really possible to construct processes of exploration, reflection, and action that have an impact on the personal development of the leadership team, on the team's approach to working together, and on the results they achieve.
Lastly, we checked out with a brief meditation session, partly to highlight how this has become an accepted practice in businesses.
We're extremely satisfied with the event, and it's likely that our collaboration with the master's programme will continue. Nevertheless, this encounter has led us once again to reflect on the importance in the academic field of further exploring the fact that management and organisation are social sciences and not perfect ones, that they lie in the realm of complexity rather than mere order, and that – in our view – they cannot be studied through a purely mechanistic approach. It must be acknowledged that these are issues that cannot just follow statistics but should be analysed at ground level. In the United States, this is fairly widely accepted. It is no accident that the MIT in Boston – with Otto Scharmer – is developing some extremely interesting projects.
It is important to share opportunities for cross-fertilisation like this one, in order to contribute to the developing scenario. This is exactly what happened in this encounter with Green Bowling State University. The other interesting thing is the dialogue created between Pieter Spinder – founder of the alternative Dutch business school Knowmads, which Peoplerise supports – and the teachers from an academic university who found extremely fertile ground for the creation of points of contact. It's an indication of how complementary systems, when brought into a dialogue, can generate enormous benefits for each other.