"What is the biggest challenge that scares us all? It's being able to tackle the next crisis that comes along without getting overwhelmed by it. How? By seeing it as an opportunity for growth".
These are the words of Otto Scharmer. This MIT Professor speaks calmly, as if he was analysing an ordinary topic. It's the same when you read texts about his theories and ideas: the simplicity and common sense of his words are what impress you the most.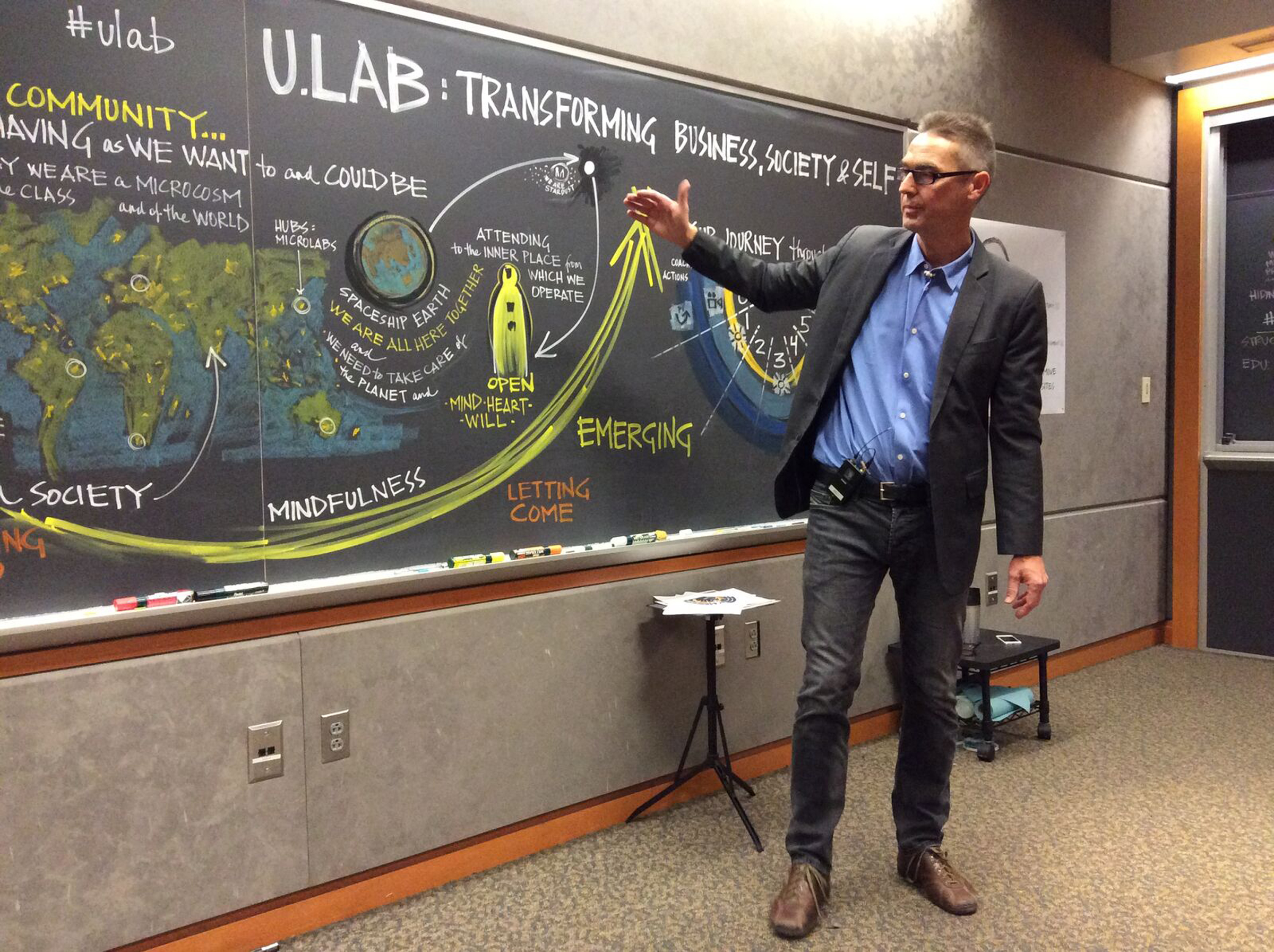 Scharmer goes on by explaining: "At this time, we are facing deep turmoil on a variety of levels in terms of ecological, social, spiritual and technological equilibrium and I can't name a single leader, CEO or manager who isn't feeling the pressure. So, this is the ideal moment to burst out of our bubble and shift towards a place with higher potential that puts us in the condition to see things from a broader perspective. This is the only way we've got to bring about new ideas that make it possible for us to explore the future, create synergy and fresher forms of collaboration in comparison with the present.
As can be read in his new book "The essentials of Theory U" (published in Italy by Guerini Next Publishers with the title Teoria U, i fondamentali), innovation happens in places. In nature, for example. The caterpillar needs the shelter of the cocoon before turning into a butterfly – protecting the creative process is an essential activity and in this case the cocoon is the place of support that profound innovation requires.
"In order to recognize and deal with crisis situations, we need to know how to dedicate some quality time first and learn how to tune into what's going on around us", the creator of Theory U points out. The point of departure of his theory is individual awareness and the destination is social change, making it possible for those who seek to transform their organization (in terms of leadership, work processes, approaches to the market and culture) to embark on an intense journey.
There is such a thing as a blind spot when it comes to leadership, management or social change that is also applied to our daily existence. (This is written in "The Essentials of Theory U". Scharmer and Guerini Next will be presenting the book in Milan on 19 May.) It has to do with that inner place, the source from which we operate whenever we act, communicate, perceive or think. We are capable of seeing what it is we're doing (the results) and we're able to see how we do it (the process) but we aren't usually aware of the whom: that inner place or the source from which we operate.
Scharmer also places emphasis on the fact that "…whenever we feel that something is missing but we can't figure out what it is… Whenever we can't understand what the solution is, much less pinpoint the problem and whenever we are faced with emerging complications that we have never dealt with before – that means that we're looking at an imprecise problem which redefines the landscape and the contours of society. It also means that the past will never be an effective prognosticator of the future and this particular challenge definitely cannot be tackled in the same way as a "business as usual" situation. This is why it's so important to create partnerships with people who know how to observe the same crisis from a different perspective – people who can introduce new elements for the development of a new strategy".
This is precisely one of the objectives of the encounter organized by EcorNaturasì and Peoplerise in collaboration with the Italian ULab community. We'll be waiting for you in Milan on 19 June to take a step into the future together!
For further information: www.cominciamo.org