#researchproject
focus
I progetti di trasformazione aziendale portati avanti da Peoplerise hanno l'obiettivo di generare impatto attraverso la creazione di valore maggiore rispetto alla distruzione di esso. Sulla scorta dell'esperienza fatta negli ultimi anni dall'International Integrated Reporting Framework, questo filone di ricerca sperimenta la misurazione dell'impatto integrato che vada oltre il capite finanziario.
The business transformation projects carried out by Peoplerise aim to generate an impact through the creation of more value rather than the destruction of it.
Based on the experience gained in the recent years by International Integrated Reporting Framework, this line of research experiments with the measurement of the integrated impact that goes beyond financial capital.
info
This means that in order to avoid negative effects on important company dimensions, in addition to financial capital, 5 other capitals are measured, the fluctuation of which must be assessed along the way:
PHYSICAL CAPITAL: new products services or infrastructure
INTELLECTUAL CAPITAL: new knowledge and information generated
HUMAN CAPITAL: new skills learned
SOCIAL CAPITAL: increased confidence in the system of which one is a part
NATURAL CAPITAL: regenerated natural resources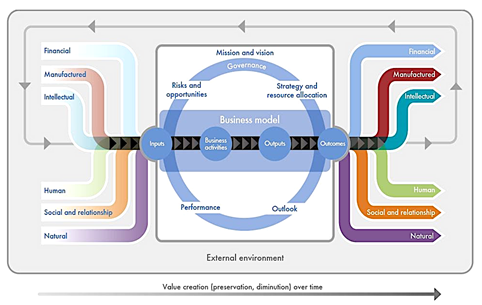 with whom
As Peoplerise we are carrying out this research project with the collaboration of Prosphera and Knowledge.
Do you want to be part of this research project? Contact me!